PVC Equestrian Post & Rail Fence Gallery

Click any thumbnail image to view a larger and more detailed image.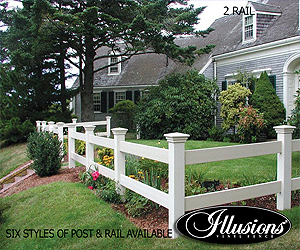 2, 3, or 4 Rail Fence
Vinyl Cross Post and Rail
Beautify your property and have the ease of mind knowing that your fence is backed by a LIFETIME non-prorated warranty. All our privacy fencing includes our heavy duty bottom rails for more support and longer durability and maximum strength.
Ranch Quality "Wood" Post and Rail
WOOD CCA POST & RAIL

SIZE

Post Size 3 1/2" X 3 1/2" X 8' Rail CCA ( standard )

Post Size 4 1/2" X 4 1/2" X 8' Rail CCA ( heavy duty )

2" X 6" X 8' Rail CCA Pressure Treated

2" X 6" X 16' Rail CCA Pressure Treated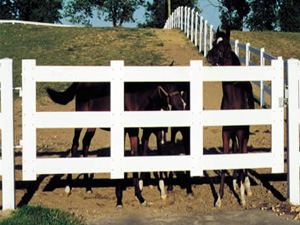 PVC 3 Rail - Reinforced Gates
We can custom build a wood or pvc gate design to your exact specifications. Give us a call today we have a solution that will meet or exceed your projects requirements.