| | |
| --- | --- |
| Cedar Fencing | Custom Sizes Welcome |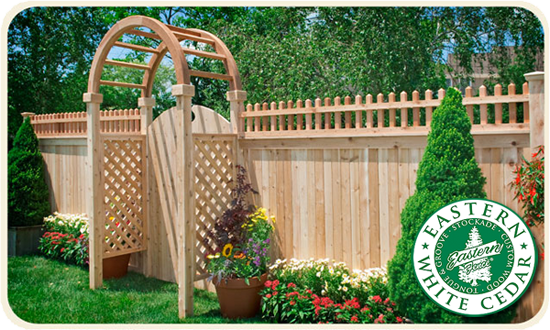 Our Eastern White Cedar wood fence products are the perfect landscape accent. They are carefully created with an old world charm and hand crafted in our facility. Featuring: Tongue and Groove Wood Privacy Fence, Classic Red Cedar Victorian Picket Fence, White Cedar Lattice Fence, White Cedar Solid Wood Fence Panels, White Cedar Solid Custom Shaped Wood Fencing, White Cedar Spaced Picket Fence, Cedar Stockade Fence, White Cedar Board on Board Wood Fencing, White Cedar Custom Wood Gates, Wood Guard Rail, White Cedar Wood Toppers, Wood Post and Rail Fencing , White Cedar Arbors and Pergolas, Custom Wood Hardware, Wood Finials,Wood Post Caps and much more! Please click on sub directory links below for more images and details about our product line. Thank you.
 
 
 
 
 
 
 
 
 
 
 
 
 
 
 
 
 
 
 
 
 
 
 
 
 
 
 
 
 
 
If you're looking for distinctive creative styles and consistent quality wood fencing, look no further. Eastern White Cedar Brand Wood Fence Products are skillfully hand crafted in our own factory with one of the fastest delivery rates in the nation. Our huge selection features Tongue & Groove Wood Privacy Fence, Red Cedar Wood Picket Fence, Wood Lattice Fence, Solid Wood Privacy Fence Panels, Shaped Solid Wood Privacy Panels, Spaced Picket Wood Fencing, Wood Stockade Fence, Board on Board Wood Fencing, Wood Gates, Wood Fence Toppers, Wood Arbors and Wood Pergolas, Custom Designed Wood Fence Hardware, and much much more...
"With the thumping sounds of air guns popping and saw-blades whizzing, another premium cedar fence section takes form." A form that we have been creating for over 35 years. Eastern White Cedar Wood Fencing brand was created by a company that started selling wholesale wood fence products in 1971. The brand derives its name from the cedar tree species known as Eastern White Cedar. Known throughout the fence industry as one of the finest tree species for enduring the rigors of outdoor weather. It is naturally protected by enzymes that help withstand rot, decay and insects.
Today, we are one of the fastest, highest quality wood fence fabricators in the industry. We employ only the finest woodcraftsmen and artisans to create the custom wood fence products known throughout the country for quality and workmanship.
"Whether it's 10,000 Tongue and Groove Wood Privacy Fence sections in Texas, or one beautifully crafted wood arbor in Maine, we can accommodate. Be assured."
Our Wood Fencing Products are sold through a network of quality professional fence dealers throughout the United States. We would ask that you quite simply contact your local Eastern Fence dealer and ask for "Eastern White Cedar Brand" by name.
 
 


Eastern White Cedar Fence © 2013
Wood fence product descriptions & images are the sole property of Eastern White Cedar Fence Company