| | |
| --- | --- |
| Vinyl / PVC Railing | |

The Illusions ® Vinyl Railing System™ is composed of polyvinyl chloride (PVC) which is extruded, in accordance with the approved quality control manual, into prefinished railing system components. The system components are available in white, beige or gray.
The top rails with aluminum "H" shaped inserts, bottom rails, and either square or colonial-shaped balusters. The inserts are 1.73 inches (43.9 mm) wide by 3.18 inches (80.8 mm) deep, and have 0.07-inch-thick (1.78 mm) flanges and a 0.10-inch-thick (2.54 mm)

The inserts are made of Aluminum Alloy 6005-T5 meeting ASTM B 221. Four styles of Illusions ® railings are available: Traditional square balusters with rectangular top rails; Tradition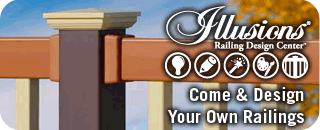 al square balusters with T-Rail top rails; Colonial Spindle balusters with rectangular top rails; and Colonial Spindle balusters with T-Rail top rails. The rectangular top rails and the bottom rails are 2 inches (51 mm) wide by 3.5 inches (89 mm) deep. The T-Rail top rails have a wider top, resulting in an overall size of 3.5 inches (89 mm) wide by 3.5 inches (89 mm) deep.

The Illusions ® Vinyl Railing System™ is recognized for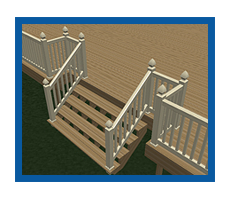 guardrails having a maximum height of 42 inches (107 cm) as shown in Table 1.The railings provide for 3.42-inch-wide (86.9 mm) openings between the 1-1/2 inch (38.1 mm) square sections of the thermoformed hollow PVC Colonial balusters and the co-extruded hollow PVC Traditional balusters. The bottom and top rails have a 0.12-inch (3.05 mm) wall thickness, and the Traditional and Colonial balusters have a 0.08-inch (2.03 mm) wall thickness. See Figure 2 for typical component cross sections. The top and bottom rails are fastened to the supporting structure using 2.5-inch-tall-by-2.75-inch-wide (64 mm by 70 mm) nylon brackets. The brackets have four screw holes used to fasten the brackets to the supports, a resting flange at the bottom, and a fastening flange on each side with three slotted screw holes each. The brackets are designed for mounting deck railings and stair railings to fixed wall surfaces or to braced columns.
Design the perfect Illusions Vinyl Railing installation for your property with your free Illusions Railing Design Center software. Featuring Grand Illusions Color Spectrum and Grand Illusions Vinyl WoodBond Color and Woodgrain Vinyl Railing (Patent Pending). All with color protection by Sky2Blue Shield (Patent Pending). Use it to dimension your deck, design custom railing panels, and then draw railing onto your installation.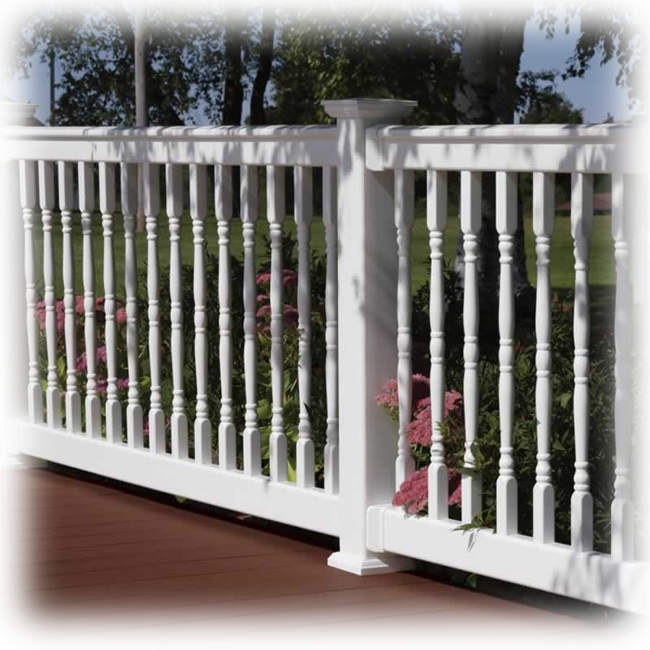 PVC Railings  are a low maintenance, easy  way to add style and design to your deck, steps and porch.  Available in white and tan. Vinyl railing has been around for a long time now and has proven to be very durable and low maintenance. Newer composites have made huge advances in the railing market because they look more like a well finished painted wood. Although slightly higher in cost, composite railings are rapidly gaining popularity. Let us help you create a new color combination for your next project.
Vinyl Railings: color samples
new...new....new...


| | | |
| --- | --- | --- |
| | One of the most exciting aspects of the Illusions Vinyl Railing System is it's Mix'n' Match color variations. Any piece is available in any color. This allows for the most attractive visual solution to any installation. All colors are also ICC-ES AC174 Certified for both residential and commercial usage. | |